We believe in educating and developing the management students as future professional leaders.
ABBS School of
Management offers
Post Graduate Diploma in Management (PGDM). This program is of two years duration and duly approved by the AICTE. We believe in educating and developing the management students as future professional leaders who will be competent, cultured and confident to undertake challenging corporate responsibilities.
ABBS School of Management has been ranked consistently as one of top business schools at the national level by different Ranking agencies. We work towards achieving total quality, complying with Regulatory norms and accordingly this PGDM Program has been approved by AICTE. We have collaboration agreement with the various Global Management institutes to provide global exposure to our students.
Overview
The curriculum architecture, mapping, and the course selection and session planning are being undertaken keeping in view the changing industry needs, the best practices in the Global management education institutes, processed and approved through a well constituted Board of Studies. The academic governance is very transparent and provides for total autonomy and innovation in making the learning more meaningful and useful. The industry and academic interface is very close and continuous in the overall activities.
ABBS School of Management; a unit of Samagra Shikshana Samiti Trust (SSS) is located in Bangalore the capital of the state of Karnataka in India. Bangalore is a silicon city of India and a truly cosmopolitan city with the population consisting from all the parts of India and the Globe. It is located at Magadi Road that is around 15 KM distance form Majestic, the main city of Bangalore. Bangalore usually enjoys a more moderate climate throughout the year.
Insights
The coolest month is January with an average low temperature of 15.1 °C (59.2 °F) and the hottest month is April with an average high temperature of 35 °C (95 °F). The highest temperature ever recorded in Bangalore is 39.2 °C (103 °F) (recorded on 24 April 2016) as there was a strong El Nino in 2016. The lowest ever recorded is 7.8 °C (46 °F) in January 1884.
Winter temperatures rarely drop below 14 °C (57°F), and summer temperatures seldom exceed 36 °C (97 °F). Bangalore receives rainfall from both the northeast and the southwest monsoons and the wettest months are September, October and August, in that order.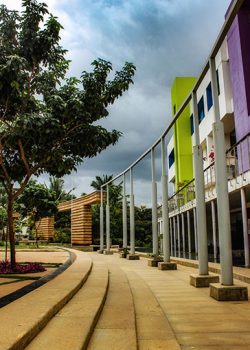 Organogram
International Collaborations